On Thursday the 6th of September Isabella Yabut received the Bishop of Parramatta Award for Student Excellence during a ceremony held at St Patrick's Cathedral.
Isabella was one of 27 Year 12 students from Catholic Schools across the Diocese of Parramatta who have given witness to their Catholic faith and achieved well in their academic, sporting, creative, vocational or community endeavours.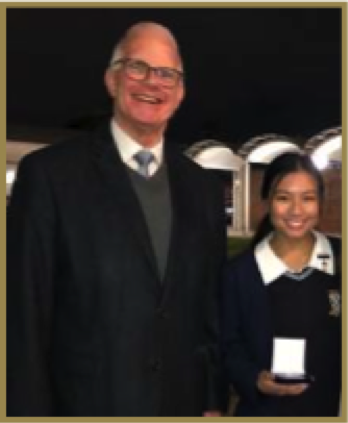 Below is the citation read at the ceremony by Ebony O'Connor from Year 11.
Isabella Yabut is a shinning example of 'faith in action' and in all she does, she emulates the qualities we endeavour all graduates of St Andrews College to leave us with.
Isabella has a strong faith which has been demonstrated through her membership of the Social Justice and St Vincent de Paul Leadership Teams and her involvement in leading liturgies and prayer amongst her year group and the younger students of our community. She is truly a 'person for others' always willing to share her lived faith through her active involvement in fundraising initiatives for the many charities the College supports and through her awareness raising presentations of social justice issues.
Isabella always willing gives of her time in the service of others which is evidenced by her involvement in our Thailand Immersion Program through teaching English in a North Eastern Thai School and close to home her weekly visits to the Holy Family Aged Care Centre.
Isabella is a student who strives for academic excellence and has shown great persistence and diligence in her studies and despite this she is always there to support and encourage those students who struggle with their learning. She is a role model for all students and a true example of our motto of "Doing More Going Beyond". Isabella is a very worthy recipient of the Bishop of Parramatta Award for Student Excellence and a true ambassador of St Andrews College.