CAN 2018 will be held on Tuesday 26th of June
Tickets can be purchased from the Junior Campus Office from Week 5.

For further information please contact the school office on 9626 4000, or send us a message by email.
View a snippet from CAN 2017 below.
Posted: Wednesday, 9 May 2018
Upcoming Tell Them From Me Survey
Dear parents and carers,
St Andrew's College will soon be conducting the "Tell Them From Me" survey which is designed to provide the school with valuable feedback on what our students think about school life.
Please click here for further details.
Posted: Monday, 7 May 2018
Year 12 Parent Teacher Student Conference
The Parent/Teacher/Student Interviews for the HSC Midcourse period will be held on Tuesday 22nd May 2018. The event will commence at 3.00pm and conclude at 8.00pm. These interviews are compulsory and are an important part of the learning process. Students are provided with the opportunity to receive feedback and ask questions regarding their learning progress thus far.
Interviews are strictly 5 minutes in length and spaces are limited. We ask that each parent keep to the assigned times to ensure that there are no lengthy waiting periods. If you require more time than the 5 allocated minutes, please contact the class teacher to arrange an interview at an alternate time.
You will be redirected to the School Interviews Online website.
Posted: Thursday, 3 May 2018
Day Spa for the Soul
A special day for parents across Parramatta Catholic Schools.
Laugh .... Prayer .... Reflect ....and take time out for yourself.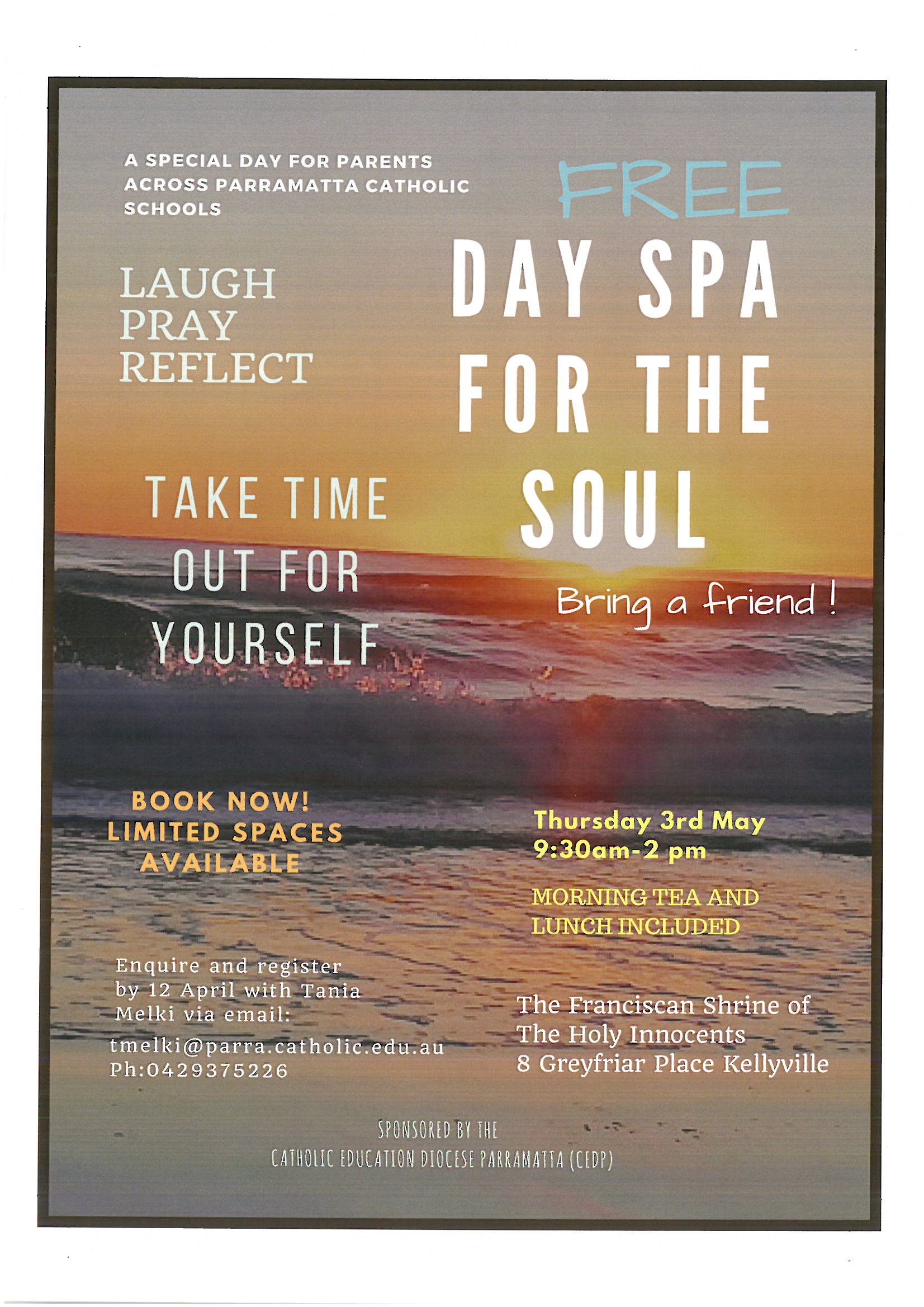 Posted: Wednesday, 28 March 2018
2019 Year 7 and Year 11 Enrolments
Parents who wish to enrol their child in Year 7 or Year 11 at St Andrews College must submit an Enrolment Application Form before Friday the 4th of May at 3.00pm.
Year 6 parents are invited to a Pre-Enrolment Meeting on Tuesday the 3rd of April at 6.00pm. The meeting will be held in the Holy Family Hall on the Junior Campus.
Click here for an Enrolment Application Form.
Posted: Tuesday, 20 March 2018
Junior Campus Tour April 2018
Bookings for the Junior Campus Tour on at 9:30am on Wednesday the 11th of April can be made by
clicking here
. This will redirect you to the School Interview Online site.
Posted: Friday, 16 March 2018