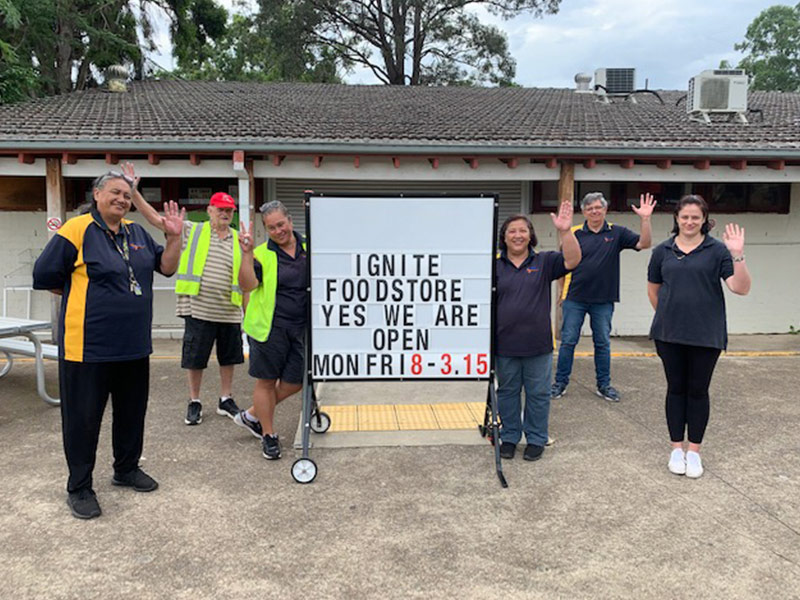 As we continue to adjust to a new reality of social distancing, isolation and economic downtown much of the focus from our news outlets has been on health, employment, education and the availability of grocery store staples.
These issues are affecting all Australians today. Sadly, for a large group of vulnerable people in society, these issues are not new and have been made all the more challenging amid the COVID-19 pandemic.
Charitable organisations such as the Jesuit Social Services have long been operating services aimed at helping those in need including running a range of programs in Western Sydney building relationships with local communities through training and work experience, employment, family support, school engagement and leadership activities.
The Ignite Food Store is run on the premises of Holy Family Parish, Emerton and is one of their ventures which helps customers have access to set priced hampers of groceries. Supported heavily by donations and fundraising activities provided by schools and parishes in the Diocese of Parramatta, the Ignite Food Store has been able to help provide affordable groceries including fresh fruit and vegetables, meat, and dairy, to the Mount Druitt community.
Students and staff from CathWest Innovation College have been big supporters of the Ignite Food Store and focused some of their fundraising activities earlier in the year towards the service. Principal Cathy Larkin said it is important to continue to support those in need, especially during these unprecedented times.
"As part of our community outreach and mission programs at CathWest Innovation College, we recognise the ability we have to help our local community and make a real contribution to helping those who are struggling," Cathy said. "With government restrictions due to COVID-19 changing the way schools operate and increased financial and job uncertainty, services like the Ignite Food Store need support more now than ever before."
As a result of the COVID-19 virus, the Jesuit Social Services has had to close a number of services to ensure the health and safety of their clients however they remain committed to keeping the Ignite Food Store open, but urgently require donations of groceries to provide to local residents.
A number of Catholic schools in the Diocese of Parramatta have helped to fundraise, donate and stock the shelves with food throughout 2019 and early 2020.
If you would like to donate groceries please email Claire.Thomas@jss.org.au or contact Claire on 0417 269 623. If you would like to make a financial donation to the Ignite Food Store to assist purchase wholesale goods, visit: www.ignitefoodstore.com.au
The Ignite Food Store is located at 254 Luxford Road, Emerton Enter via Church car park on Luxford Rd.
---
A big thanks to the following schools for their contributions so far:
Caroline Chisholm Catholic College Glenmore Park
Gilroy Catholic College Castle Hill
CathWest Innovation College-McCarthy and Loyola Campuses
St John Paul II Catholic College Schofields and Nirimba Campuses
St Andrew's Catholic College Marayong
St Luke's Catholic College Marsden Park
St Agnes' Catholic High School Rooty Hill
St Columba's Catholic College Springwood
Parramatta Marist High Westmead
Catherine McAuley Westmead.