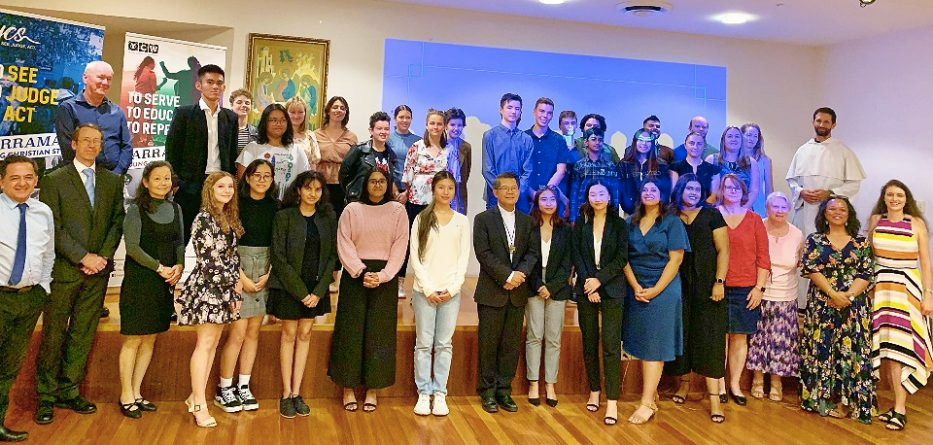 Bishop Vincent Long OFM Conv, Bishop of Parramatta with the YCS students and supporters from St Andrew's College Marayong , St Luke's Catholic College Marsden Park, and St Columba's Catholic College Springwood. Image: Diocese of Parramatta.
Recently some young people in the Diocese saw first hand the changes they could make in their school communities.
In her own words, Jerica Cabanit, then a Year 11 student at St Andrew's College Maryong, was "scared out of her mind" at the prospect of the HSC and finishing school. The self-confessed perfectionist had high expectations for her ATAR, but also wanted to balance this with making her last year at school 'count'.
The need to find a meaningful activity, led her to the school social justice group organized through Young Christian Students (YCS), a student-run movement which is supported by adult volunteers and paid workers.
Young Christian Students is the student arm of Young Christian Workers (YCW), a movement founded by Cardinal Joseph Cardijn in Belgium in 1924 which came to Australia in 1939. As a boy, Cardinal Cardijin had seen the exploitation of working people in the factories close to his home. Applying the principle that each person is created in the image of God, his movement aimed to restore the dignity of workers and help laypeople discover they too have Christian vocations.
Today YCW and YCS encourage young workers and students to uncover needs in their community and take action.
The Diocese of Parramatta supports Parramatta Christian Workers and Young Christian Students operating in schools in the Diocese. On Friday 9 April Bishop Vincent Long OFM Conv, Bishop of Parramatta recognized the work of the YCS, at a presentation attended by representatives from St Andrew's Catholic College, St Luke's Catholic College in Marsden Park, and St Columba's Catholic College in Springwood. Students were presented with certificates in recognition of their involvement over the past 12 months.
Representatives from the schools presented their most recent projects.
In early 2020 the St Andrew's College YCS students had started to plan their year, when COVID forced all students into lockdown. To stop the inevitable decline in numbers, the group addressed the stressful feelings they were encountering with an online resource, a video #fleetingstress. The success of the video's acceptance in the school community led to the YCS reaching out to collaborate on another video with St Agnes Catholic High School in Rooty Hill.
Like Jerica, Matilda Gaucio of St Columba's Catholic College in Springwood wanted to take real action against real issues. The YCS at St Columba's created a mural aimed at informing the school about the impacts of transphobia and homophobia on mental health issues and internalized homophobia. They also created a display about the effects of slurs and derogatory language after surveying other students at the school. Responses indicated the student's raising of difficult topics has been far-reaching.
As well as receiving positive feedback from their school communities, Matilda and Jerica both expressed how they had been changed personally by YCS. Jerica saw the power of collaboration. "Our combined efforts achieve more than doing it ourselves," she said.
"YCS has given me and other members a voice and a space to express our opinion" Matilda told the audience at the presentation. "Ultimately we aim to create a safe environment and to have open conversations about how our school and wider community can be better."
Jerica summed up the value of encouraging and showing young people how to make positive change "Because unless someone like you cares an awful lot, nothing is going to get better," she said.
---
Learn more about St Andrew's Catholic College Marayong