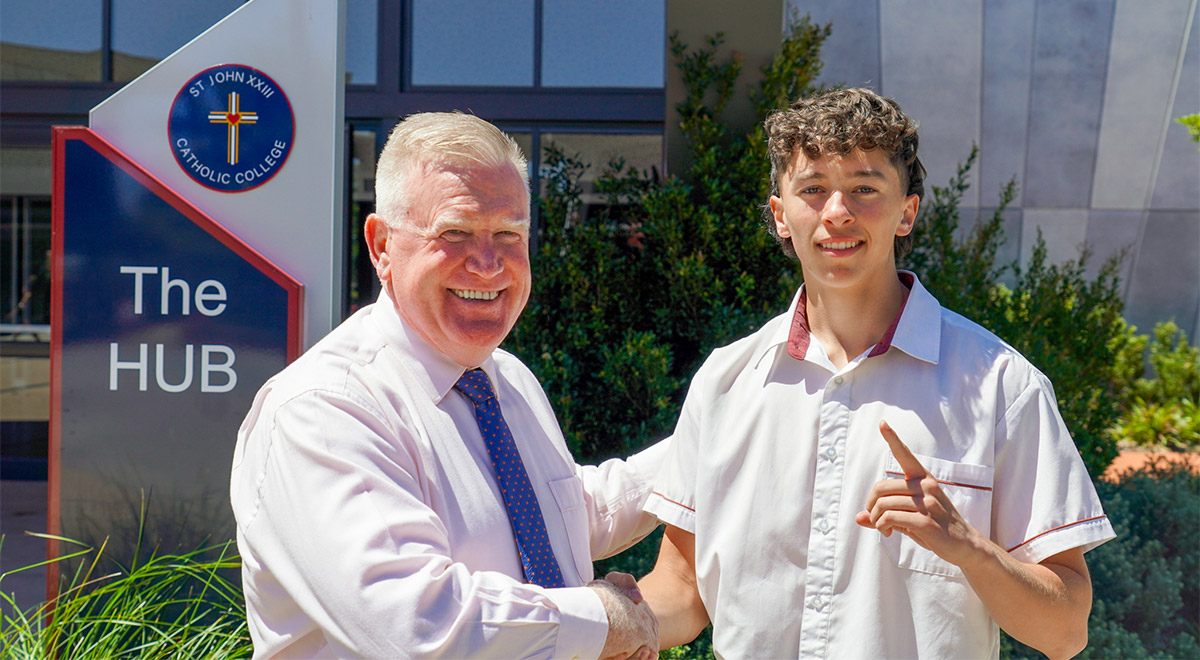 One of the most exciting young stars in Australian athletics, St John XXIII Catholic College student Sebastian Sultana continues to show why he's regarded as a future Olympic star with his double gold win at the recent Australian All Schools Track and Field Championships in Adelaide.
Despite difficult conditions in Adelaide, Sebastian comfortably won the 100m final and then backed up a day later to scorch the field in the 200m final, setting a new meet record of 20.71. That was more than two tenths of a second faster than the previous record (20.94) set in 2006.
There was a silver lining for a host of our other students competing at the event.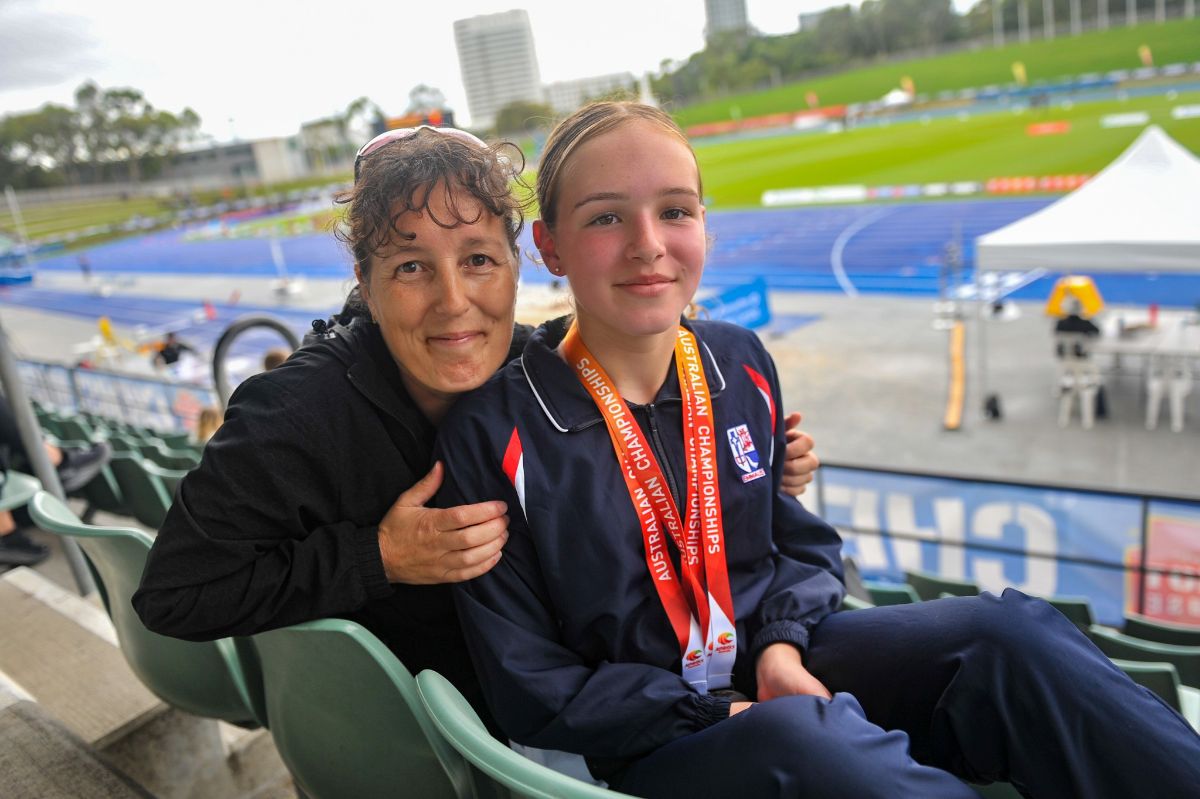 Despite only being 15, Emmaus Catholic College student Layla Sharp recorded a blistering personal best in the 800 Metres PA Under 20 final to take second place.
"We are over the moon with her PB," said Layla's mother Sam Sharp.
Xavier Perry from St Agnes Catholic High School Rooty Hill also claimed silver in the Under 15 Men's 400 Metres final, only missing out on gold when the winner broke the meet record. Xavier also claimed a silver as part of the NSW team in the Mixed 4 x 400m U16 Relay.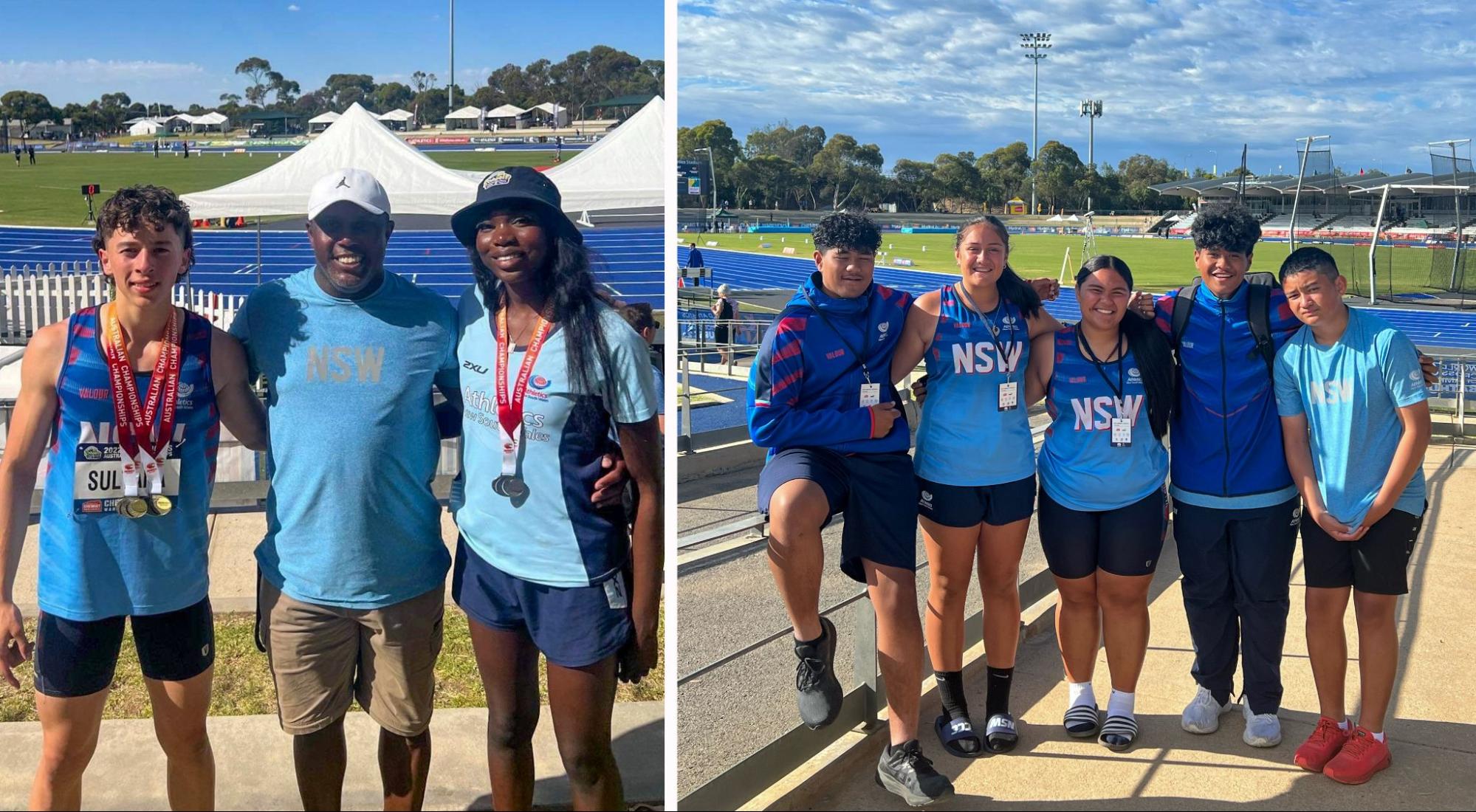 Caroline Chisholm student Raphaila Idris missed out on gold by the smallest of margins in the Under 17 Women's Triple Jump. Her rival jumped 12.45 with her penultimate jump to better Raphaila's opening jump of 12.44 by just one centimetre.
Raphaila still had one final jump to snatch the gold back and mustered another brilliant 12.43 to claim the silver medal.
Patrician Brothers' College Blacktown classmates Kalisi Aualiitia and Filtomas Finekifolau spurred each other on to a great result in the Men's Under 14 Hammer Throw with Kalisi claiming silver and Filtomas finishing fifth. Kalisi was in gold-medal position after a throw of 49.36 only to see a rival snatch top spot with his final throw of 49.96m.
St Andrews College Marayong twin brothers Julio and Dominic Tatupu will be taking home brilliant silver and bronze medals from the Under 15 Men's Hammer Throw final. Julio threw a superb 48.32m for silver with Dominic claiming bronze (41.87m).
St Luke's Catholic College student Salote Wolfgramm claimed double bronze in the Under 15 Women's Hammer Throw and Under 15 Women's Discus and also finished fourth in the Under 15 Women's Shot Put.
Fellow St Luke's student Liam Hayes won bronze in the Men's Under 15 Long Jump and just missed bronze in the Triple Jump by a mere four centimetres.
Gilroy Catholic College's Xavier Hennessey secured bronze in the Under 16 Men's Pole Vault final.
Sebastian Sultana's St John XXIII schoolmate Luke Vrataric went incredibly close to a medal in the Under 16 Men's Long Jump. Despite a best jump of 6.63m, two other jumpers also reached 6.63m with Luke finishing fourth on countback. He also claimed fourth place in the Under 16 Men's Triple Jump.
Bede Polding's Olivia Dimech just missed out on a bronze medal in the Under 18 Women's Triple Jump final when one of her rivals beat her mark with her final attempt.
Caroline Chisholm College's Jemma Camilleri finished seventh in the Under 14 Women's Javelin. Brendan Pospischil from Parramatta Marist High School finished seventh in the Under 18 Men's 5000 Metres Race Walk. Caitlyn Martin from Gilroy Catholic College also claimed seventh in the Under 14 Women's High Jump. Travis Hargrave from Bede Polding College finished fifth in the Under 18 Men's 400m Hurdles and Ryan Cloey finished 10th in the Under 14 Men's Javelin. Alexander Crimmins from Xavier College Llandilo finished fifth in the Under 17 Men's Triple Jump.