St Andrews College is a coeducational secondary school committed to a personalised, relevant and meaningful experience for every student.
Our focus at St Andrews College is to develop each student using the SPIRE Framework.

An education at St Andrews College will nurture your sons and daughters in their faith, encourage them to respond to others with compassion, challenge them to achieve their personal best in a safe and caring environment and prepare them to be worthy citizens of the wider community.
Learn more about what St Andrews College offers your child
---
Inspiring students to thrive
St Andrews College provides a safe and happy environment to enhance student learning. Students at St Andrews College are encouraged to involve themselves in College life to ensure their education is an enriching experience. Students at St Andrews College soar with their strengths to achieve their dreams.
By 'Doing More and Going Beyond' students at St Andrews College are people for others, their Faith doing justice to transform our world.
Learn more
---
A strong academic record
St Andrews College has a strong academic record, which is the result of a comprehensive curriculum, extension and study support programs. In 2021, students continued to demonstrate substantial learning gain throughout their schooling with a number of HSC students achieving an ATAR of over 90. In 2021, the highest ATAR was 98.5.
More than 80% of students are offered their first preference at university.
Learn more
---
Exceptional Educators
Whether teaching or in the office St Andrews College staff are part of a system committed to transforming the lives of every student, every day. Meet our leadership team.
Learn more
---
A culture of ongoing student learning growth
St Andrews College has a strong Vocational Education and Training (VET) curriculum where students continue to be recipients of Regional, State and National VET Awards.
St Andrews College students pursue their education at university in: Medicine; Law; Engineering; Business; Education; Science; Communication; Design and Health.
Some students leave St Andrews College to continue their education and training through Apprenticeships, Traineeships or TAFE. Other students enter the workforce.
Learn more
---
Connected to a global community
The St Andrews learning community are people for others and are are closely engaged with global communities.
The College has enjoyed a sister school relationship with Isahaya Commercial High School in Nagasaki, Japan since 2011. Students are also involved in the annual Thailand Culture Immersion Trips to a village school in the Dankhunthod local district.
Students are also able to take part in basketball and volunteer trips to Tunjun Lyso Ministry Centre San Juan, The Philippines.
Learn more
---
The compassion to bring hope to the world
St Andrews College seeks to actively educate students about social justice issues. A three-pronged approach of awareness, advocacy and action successfully engages students in the development of their commitment to social justice.
Learn more
---
Religious Education
St Andrews College is part of St Andrew the Apostle Catholic parish, Marayong. It offers religious education, liturgical and spiritual opportunities for students to develop an understanding and appreciation of Catholic faith.
Learn more
---
Extracurricular Activities
Discover the huge variety of extracurricular opportunities available to students at St Andrews College. These extracurricular activities are important because they develop students' wider interests, stimulate their intellects and provide them with purposeful leisure pursuits. There is something for everyone!
Learn more
---
Sporting Opportunities
Sport at St Andrews College provides students with a wide range of experiences and opportunities, from Thursday Sport to Representative Sport. It offers a vehicle to develop physical and social skills, and is also an active contributor in nurturing character development and sportsmanship.
Learn more
---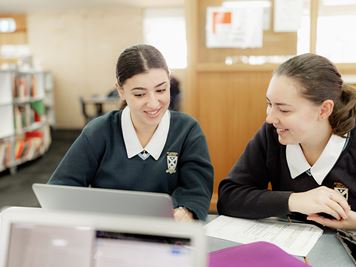 Technology Requirements
We are at the forefront of the use of technology in the classroom and use it across all curriculum areas, where it enhances teaching and learning. The program not only provides students with access to expanded global resources and content, but gives students the opportunity to take ownership of their learning and facilitate creative problem solving.
---
Thank you for considering St Andrews College as the school for your child.
Learn how to become a part of our Catholic learning community today!
HOW TO ENROL
CONTACT US