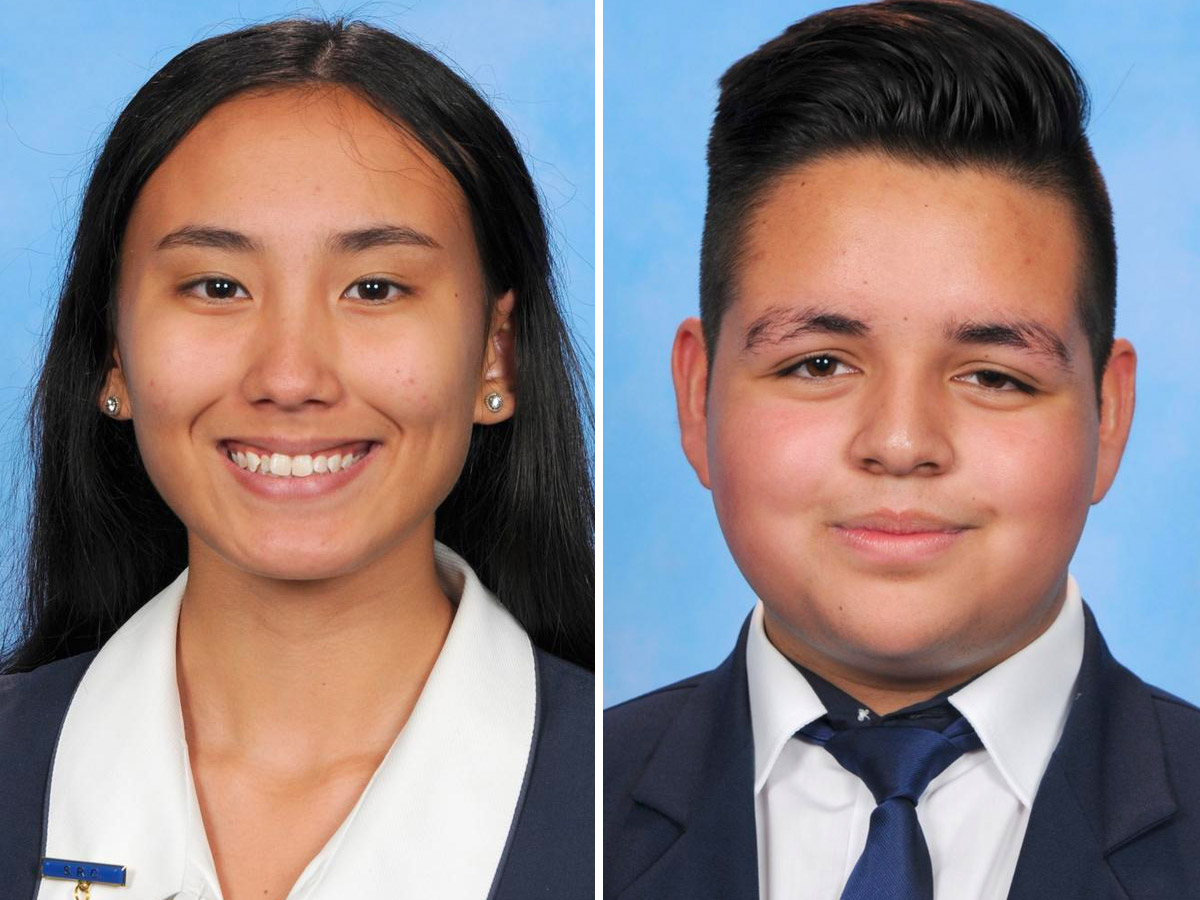 St Andrews Catholic College Marayong School Captains, Hayley O'Connor & Wasim Farah
As we go into another school year, the Blacktown's school leaders are preparing to lead and motivate their fellow students through 2022.
From natural leaders to future sports stars to the educators of tomorrow, the school leaders of western Sydney have shared what makes them a leader and what their futures hold.
Meet the region's young and upcoming leaders for 2022.
School Captain Hayley O'Connor
The new school captain of St Andrews College, Hayley O'Connor, said she was a strong believer in harnessing the opportunities made available at her Marayong high school to become a well-rounded individual with a multidisciplinary skillet.
"I love all aspects of school, especially the extra-curricular opportunities," she said. "It's an environment where I'm best able to grow as a human being and develop my skills in all areas. "School is the only period in life where I'm able to enjoy all these activities at once, so to capitalise on the many options available, they range from debating and public speaking to sporting teams such as netball, basketball, touch and oztag as well as social justice groups such as YCS and Vinnies."
What makes you a good leader?
I have been afforded considerable educational and leadership opportunities throughout my time at high school. I have been elected to the Student Representative Council from the years 2017-2021 and have been honoured with the title of school captain/college captain in 2020/2022. Growing up, I was frequently drawn to leadership opportunities in school, sporting or employment contexts. I believe leading is an imperative life skill that I personally aspire to constantly improve upon. This innate determination to develop myself as a leader and as an overall human being pushes me to be the best leader I can be.
Leading by example is at the crux of what it means to be a good leader. As college captain, I strive to emulate an ideal student. My passion for learning and dedication to my studies allows me to lead others in the direction of working hard at school. Being a good leader goes beyond leading by example, but by genuinely and passionately believing in what it is you're leading. As a college captain, I am entirely invested in ensuring those around me love the school as much as I do. Leaders must be confident with their passion because if you, the person people are meant to look up to, are not doing what you desire others to do, then you simply are not leading. As college captain, I proudly present on assembly and tell my school how much I love our college. In the playground I remind my peers how amazing our school is. When anybody asks me about St Andrew's Marayong, I can't help but exert positivity about my school.
The objective of a leader is to ensure everybody progresses, not just the leader. Often, I've found that the most effective leadership is when I'm leading from behind, ensuring everybody is progressing forward. My greatest leadership skill is my ability to identify the people at the back who perhaps don't enjoy school as much as others or might struggle with learning. Rather than leaving them behind, I walk with them to the front, ensuring we progress as a college as opposed to only a few individuals getting ahead.
What are your future aspirations?
After school, I aspire to pursue university and continue working. This pathway has been informed by the opportunity to complete university units alongside my Year 11/12 studies. My school selected me to study at Macquarie University through the Gifted and Talented Students program and at ACU through the Step Up into Teaching program. Having parents who are both teachers and being surrounded by inspiring educators everyday, I have decided to pursue teaching. As a student, I believe the most influential and meaningful work is occurring in the classroom. If I, as a teacher, could inspire one student the way I have been inspired by my teachers, it will be enough for me. As a teacher, I will be able to contribute to the vital shaping of our society's future by fostering a safe learning environment while simultaneously challenging my students to be the critical thinkers our world desperately needs.
School Captain Wasim Farah
For Wasim Farah, his interest in justice and engineering positive change at St Andrew's College has seen him perfectly placed to lead as school captain. "I began my high school journey at St Andrews where I was inspired by the life of the apostle Saint Andrew and his strong sense of servant leadership," he said. "Currently, as a member of the college's social justice committee Young Christian Students, we aim to reconstruct a sense of connectedness within the college that was dispirited during the midst of the Covid-19 pandemic and to take action and nurture positive change on a mesoscale in hopes of inspiring macro-change."
What makes you a good leader?
I think what makes me a good leader is my passion for establishing meaningful connections with my peers as well as my approachability and transparency. Growing up with strong influences in my life, who have ultimately cultivated my strong sense for leadership, I admire the notion of leading by example in order to promote our college's ethos and to nurture a shared vision throughout the college. My grandfather always reiterated the importance of servant leadership and that good leadership begins with respect. It is with this quintessence I endeavour to lead and to inspire. Additionally, I believe that my strong sense of self-awareness and flexibility allows me to effectively lead and positively influence the community.
What are your future aspirations?
Growing up in Australia, my family and I have always recognised the manifold of opportunities this nation has bestowed upon us. My assiduity toward Australian politics, international relations and human rights have fuelled my enthusiasm to pursue a career in law and politics. I want to ensure that every Australian has an opportunity to a 'fair go' just as my family and I did. Somehow, I wish to extend this on a global level. My recent involvement as a young diplomat for the United Nations has allowed me to form various perspectives regarding human rights and the complexities of diplomacy and further invigorates my passion to someday enter this field.